summer
everything at chilcotin's waterfront is close to the water with great mountain views and convenient to the dock, boats and motors.
Fishing on Nimpo Lake

Activities
Because of its many calm bays, Nimpo Lake lends itself well to canoeing. But there are numerous other lakes in the area including the Turner Lake Chain that are ideal for camping and canoeing.
Flightseeing is an ideal way to see this immense area. See Monarch Mountain rearing up nearly 12,000 feet above sea level and the massive ice fields over which it towers or Hunlen Falls, the third highest free falling water fall in Canada at over 1000 feet. Fly over the Rainbow Mountain Range with its unusual reds, yellows and pinks from mineral deposits resulting from ancient volcanic activity.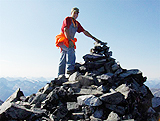 This area offers numerous hiking and walking opportunities from local marked trails around Nimpo Lake to miles and miles of rolling alpine meadows, lakes and peaks to explore. You may also wish to go out on a horse assisted pack trip with one of our operators where the horse does the carrying work and you just get to enjoy the hiking and wonderful photo ops of wildlife and the magnificent views.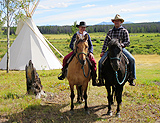 We have operators in the area that would be delighted to take you out on pack trips, whether you are a novice or experienced rider, lasting from just a few days to a week providing you with camp cooks and all the magnificent country and wildlife you could ever hope to see!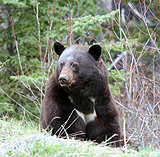 This region probably has one of the most diverse wildlife population in British Columbia. Aside from large mammals like moose, caribou, mule deer, grizzly and black bears, wolverines, cougar and wolves, we also have a fantastic assortment of smaller animals such as mink, marten, coyote, fox, otters and beavers as well as numerous large birds such as bald eagles, trumpeter swans, osprey, hawks, owls, blue heron, huge sandhill cranes, loons, geese and ducks. All offer an amazing opportunity for great photography.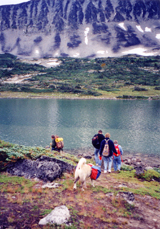 There is truly accessible wilderness right at your back door here where rolling alpine is smothered in wild mountain flowers of every possible color, and caribou, moose, and bear are easily spotted. Explore the mountains on foot, on horseback, ATV or mountain bike, or drop a line into clear, cold, streams. Or you can fish for our fighting rainbow trout in Nimpo Lake, easy to catch but challenging to bring in! Hike, walk, go flightseeing, or simply glide around the lake in a boat, canoe or kayak. Lounge around your campfire in evening listening to the loons call to one another around the lake. There are countless things to do here. Come and enjoy!